Here are five wonderful dinners that will take you less than 30 min to prepare.
They are not only quick but they are easy as well, you should have everything you need in your pantry.
Try them all and enjoy eating good tasting health food while on your diet and exercise journey.
Get cooking. Stay on your diet with these 5 Quick and Easy Dinners
Quick and Easy Dinner 1 – Zesty Mexican Soup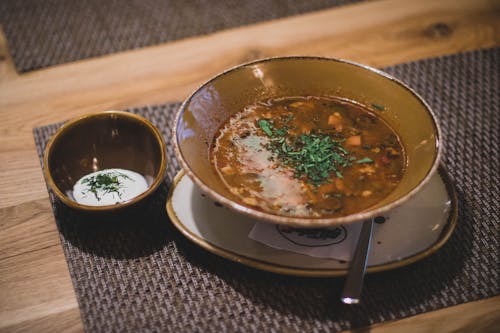 This is a wonderful soup perfect for those cold nights. It will serve a family of seven. It only requires seven ingredients; cooked chicken, low-sodium chicken broth, vegetable juice, corn, salsa, green chilies, and some cilantro. Mix all together, heat to boiling, let simmer 10 min. then serve. Try the soup with tortilla chips on the side or even a dollop of low-fat sour cream on top.
Quick and Easy Dinner 2- Tomato and Basil Chicken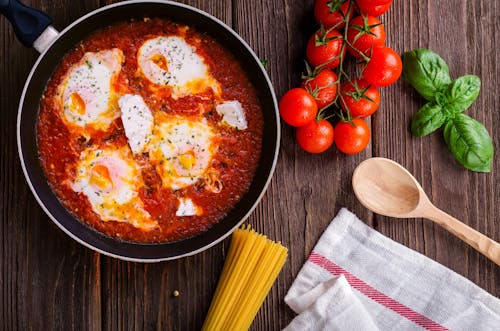 Our next 30-minute meal is a wonderful chicken and tomato pasta with nine simple ingredients. The ingredients are fettuccine pasta, onions, olive oil, garlic, salt, and chicken. Oh, yea don't forget the basil and tomatoes. Now you're going to cook it. Just cook the pasta, and the chicken then toss all the other ingredients together and serve. This pasta dish will serve 4 and will go great with some garlic toast and a small salad on the side.
Quick and Easy Dinner 3- Salmon with Creamy Cucumber sauce
Try a wonderful salmon dish with a creamy sauce to go with it that will serve a family of four. Start with some salmon, spinach pasta, a little flour, dill weed, and horseradish, then some yogurt, and cucumbers. Cook the pasta as directed on package. While it's cooking, mix everything else in a 2 qt. pot and heat. After all is hot pour mixture over pasta, then toss and serve with a nice Caesar salad.
Quick and Easy Dinner 4- Pork and Sweet Potato Kabobs
How about trying something grilled. This recipe will only serve two but you can easily make more without a problem. Start with a wonderful cut of pork tenderloin, some sweet potatoes, zucchini, and rosemary leaves. Place the pork and veggies on the kabob skewers, cook on the grill, and glaze with the wonderful sauce you will prepare. From start to finish this should only take about 20 minutes.  This would be a great way to start the summer and it is so easy the kids can even help.
Quick and Easy Dinner 5-   Home-Style Sausage and Potato Skillet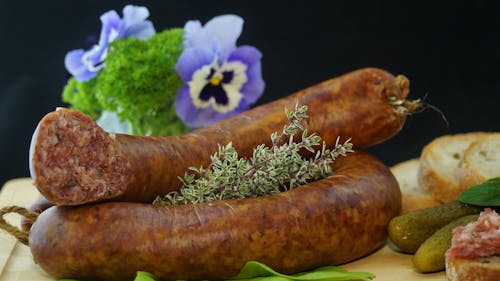 Try this wonderful potato and sausage meal that is homemade and not out of any box you buy at the store. This recipe is a cheap and easy recipe that will only take about 30 minutes and will taste great anytime. We will be using a dutch oven for this recipe. Start with some thinly sliced potatoes, some turkey sausage, and onions. Throw in a few spices like salt, paprika, dried thyme leaves, and some pepper. Cook the sausage and the onions then add everything else. The finished meal will be a savory sausage and potato dinner. Don't forget to add some nice green vegetables with that meal.
Weight Loss – Eating Sensibly
If you are seriously concerned with making changes to your diet and think that you should lose some extra weight, you can always start following a diet. It can be difficult to change your eating habits, but you can do it if you have enough willpower. I have fought with learning and the changes necessary for a healthy lifestyle. If you really want to lead a healthy lifestyle, it is significant to follow tips just to start and keep a healthy lifestyle.
To start your weight loss process, you need to refuse any foods that are unhealthy. Make sure you do not bring any junk food to your house so that you can not snack it during the day. If you are getting empty, supply your fridge with healthy foods, such as fresh fruits and vegetables, yogurt, or anything healthy that you like.
If you think that you can not resist a temptation to eat something of junk food, it is recommended to have something like a stash of licorice on hand. If you eat a little bit of these, you will not spoil your diet plan.
When you start the process, make sure to allow some time on learning which foods are the healthy option and how it gives nutrients to your body. People know that fruits and vegetables, low-fat dairy products are healthy for your body and not many people can understand why.
The point to this subject is getting some information about nutritional components. When you start realizing how these nutrients function in your body, you are more likely to make smarter options.
When beginning the process of cleansing your body for a new healthy diet plan, you will have to plan your meals in accordance with this. If you are always busy and on the go, you are eating in a rush during the day, it is obvious that you do not consume healthy foods.
It is recommended to pack a lunch to work instead of taking lunch on the go. Your self-made packed lunch should consist of healthy fruits and vegetables. Make a healthy lunch in the evening and prepare it in advance if you have not a possibility to have a healthy dinner and allow some time for cooking when you come back from work.
Avoid drinks containing sugar, have just a glass of water instead of going to Taco Bell for lunch, you can have your homemade lunch. So, start changing your eating habits first decreasing all the junk food you like, learning about healthy nutrition, which foods you can eat and which foods it is better to avoid, and you will see some noticeable changes soon. Also, add to this intensified physical workouts 3 times a week and you will reach success in the weight loss process for sure.
If you came to the point when weight loss is a critical issue – then you should learn how to lose weight fast.